On 7th September '19, we had an open day. We invited the general public to help us celebrate becoming a charity and join us in raising funds for children who attend BENS Groups. We aim to buy gym mats with the £180 raised so that children can enjoy dance and gymnastics for fun!!
We were joined by Redditch Nightstop, Redditch Community Shed, Headgym, BENS Youth and Community Groups CIC. We would like to thank everyone for their support.
Have a look at the newspaper article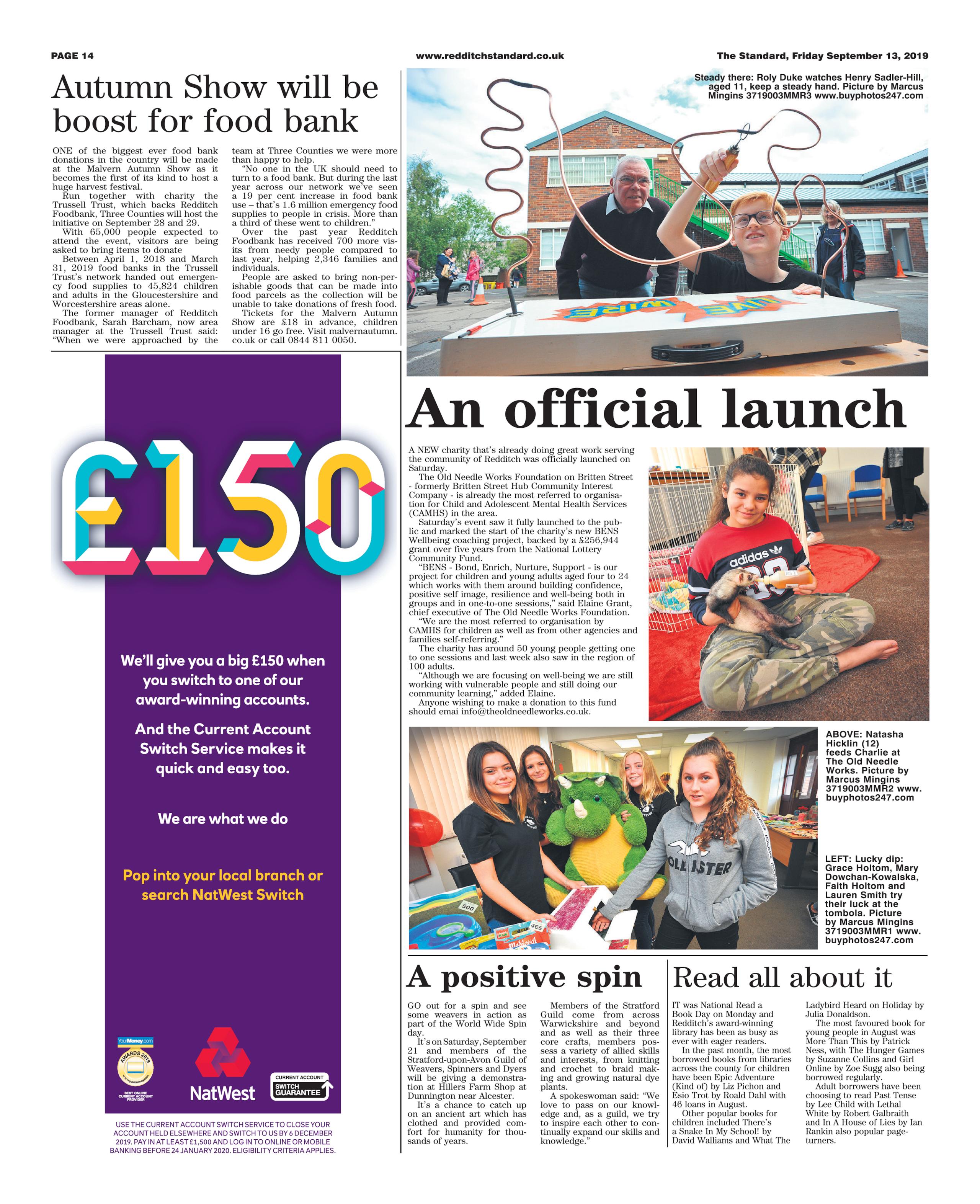 If you would like to join our hub of wellbeing, we have a couple of empty units so come and have a look around and meet the team.
Here are some of the courses we have running this September.
These sewing courses are free to those earning under £16,500 or £120 for the 12-week course for everyone else. All students will need to bring a basic sewing kit, with scissors, pins, needles, plain fabric and embroidery thread. Also a small sketchbook (A5 or A4)

We offer a wide variety of Community and Recreational learning here at The Old Needle Works, aimed to help support people of all ages with their confidence and well-being, as well as up-skilling those that are looking to return to work or simply want to build on their own personal skills, crafts and hobbies.
Perhaps you are looking for a career change and want to learn some new skills? Returning to work, but lacking in confidence to do so? Do you have feelings of low mood, stress, anxiety or depression and you are looking for therapeutic activities within a safe and warm environment? Do you feel isolated and want to meet new people and make new friendships? Perhaps you have some skills or time that you would like to volunteer? Or you have a Hobby or a passion.
Working in partnership with Worcestershire County Council Libraries and Learning.
As you may know, we have received 5 years of funding from the Reaching Communities Funding for 1:1 support for 4 – 25-year-olds. This funding enables us to support a lot of individuals and we are having a lot of interest and great results from these appointments.
Why not take a look at our facebook feed? [powr-facebook-feed id=41dc9d81_1561916102692]